This is one for macOS/Alfred J.D enthusiasts.
I've been creating an Alfred workflow to work with a J.D system. I've got a basic version working right now which I'm finding useful myself, but I want to clean it up a bit and add a couple more features before I release it publicly.
What it does now:
You trigger the workflow with the 'jd' keyword (or whatever you choose to change it to) or you can set a global hotkey. You arrive with a choice of searching at the Area, Category or ID level.

You choose a level, then you are presented with all of the items at that level. For example, if you choose Category, you can filter through all of the categories (not just the categories with one area.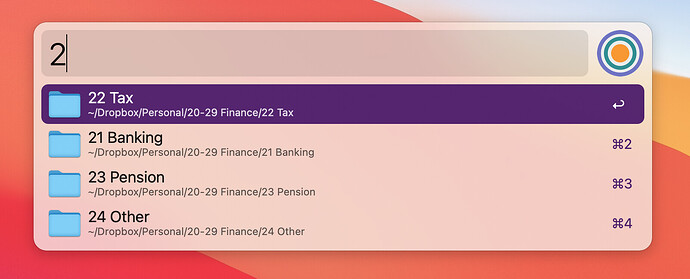 The same thing works for IDs: you can search all AC.ID folders under any Area > Category. Here I have started typing to narrow down to folders in my sewing patterns category, but I could equally search for ID folders in the '22 Tax' category.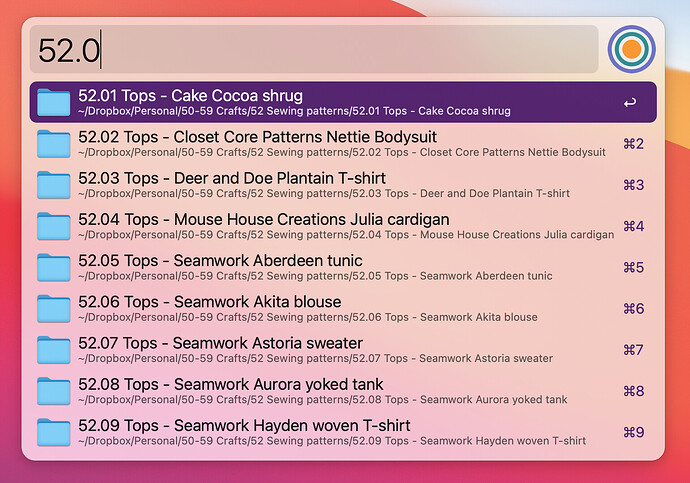 Filtering style can be set by users in the workflow itself, but I have found it most useful to have filtering set to 'Match exactly from word boundary'. That way you can start typing a numerical code and '2' will show you all the codes starting with 2, not 52, for example. You can also type part of the label if you want (e.g. 'Tops' or 'Admin') and that will also filter correctly.
Once you have filtered to your choice, you can act on the time by hitting Return (open in Finder/default app), Option+Return to browse in Alfred (enabling further actions), or Control+Return to open in Terminal.
The script (written in Go) reads the current state of the filesystem, so there is no need to cache anything or create a database: what you browse is the current state of your system.
What I'm working on now:
I'm planning to add another item to the workflow to enable the user to select a category (say '52 Sewing patterns') and add a new item folder. It would prompt the user for a label (e.g. 'Tops - Heron blouse') and in the background it would check the highest ID currently in 52, add one and prepend that to the folder name before creating a folder labelled '52.44 Tops - Heron blouse' in the right part of the folder hierarchy.
Facility to automatically update the workflow when I publish a new release on Github.
Add some tests
In the longer term I'd like the workflow to work flexibly with either AC.ID format or PRO.AC.ID, ideally automatically figuring out which system it is in. That's a harder problem to solve and won't be in the first release.
That's about it - I'm hoping to release it publicly in a week or two for people to try out, but I'm having fun with it. I didn't know any Go a week ago, so I'm impressed how easy it is to build a functional (and fast!) workflow using Dean Jackson's awgo Go-Alfred workflow framework.
Do let me know if you're interested, and if you have any ideas for features/functionality.