Hey. I am confused with the multiple project section (I've read it about 50 times over and over).
The idea of J.D is to have a unique decimal for each category, area, note, and file.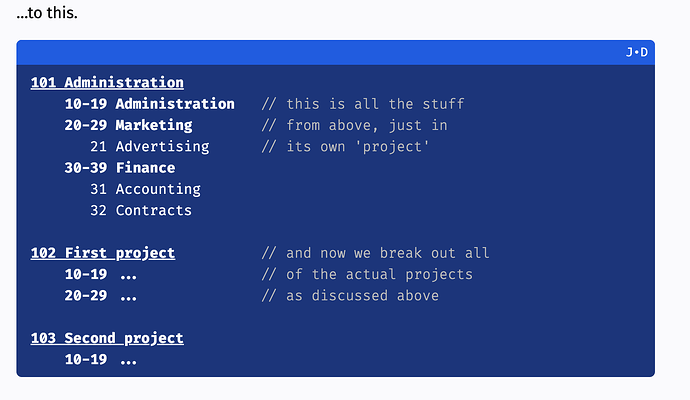 Then why would you re-use the 10-19, 20-29 over and over again inside your projects? Is it not better to have it look more like:
'100-199 Personal PRO.'
'101. Project
#1
.'
I use Alfred to navigate my J.D, so that would be an issue. The project system Johnny proposed seems good for people who navigate inside files manually and have multiple-month-long complex projects.
I haven't ever worked on such a project. I have little projects which may be part of a "goal", but they don't ever take more than a week, so I suppose this is just not for me—it's for the typical knowledge worker, perhaps? Or software engineers.
It seems that it comes down to making the system your own. I think. I'll go for 100-109 Personal (instead of 100-199 because I am using an archive for finished projects, and I need at most ten ongoing projects per area, I do not need a hundred.)
I'll also mentally link the area and resources with projects - 100-109 for Personal PRO from the area 10-19 Personal. Or, 130-139 E-commerce PRO (short for projects which I'll use as an aid to distinguishing between project and area/resource for the time being till the difference between two and three digits is mentally established) for 30-39 E-commerce area.
This is the system I came up with for myself; I'd like to hear some thoughts and perhaps suggestions to improve it! And also start a discussion on multiple projects system.