So, I just found J.D and tried implementing it into my Obsidian workspace.
Here's my setup currently. I don't know if I should actually keep every note in another 'xx.xx' folder or not…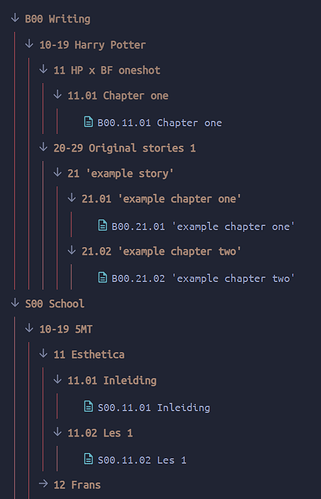 That isn't everything but the screenshot shows how I tried organising things.
Instead of doing a separate 'xx.xx' folder per chapter (stories) or per lesson (school folders) should I be doing e.g. '11.01 Lessen' (lessen = lessons in Dutch) and then throw all my lesson files into there? Or '11.01 chapters' in the stories folders and then throw all chapter files into '11.01 chapters'?
And concerning Projects:
Should I name any folders under a project for example 'B00.10-19' and then 'B00.11' for the first story? Same with school folders. Should '10-19 5MT' be 'S00.10-19 5MT' and any subsequent folders for example: 'S00.11 Esthetica' with e.g. 'S00.11.01 …' for the lesson notes?
Anyway, I hope my questions are understandable, I have a weird habit of overexplaining when asking about things.
Thanks in advance!